Call us
08000 786 373 / 07949886180
08000 786 373 / 07949886180

Email us info@dkbdespatch.co.uk
Making sure your goods arrive safely and in the same condition we collected them in is our number one priority.
We take great pleasure in meeting your deadlines consistently, time and time again.
Choose the courier service that will not let you down.
One Wedding, a Ripped Dress and a Courier Company
It was 9pm on Friday evening when we got the call. A panicked voice on the phone, the lady on the other end of the line didn't even say hello, she really sounded in a state
"My wedding dress is ruined!" she said, in an unmistakably northern accent. "And I'm getting married tomorrow!"
Before I could say sorry but I think she'd got the wrong number as we're a same day courier company not a dressmaker, she continued on, on the verge of tears.
'My dressmaker said she can fix it, but she's all the way in Leeds! Can you do anything to help? We've already tried several other courier companies and they've all said they can't do anything at this time and at such short notice.
I reassured the distraught lady that we offered a 24 hr same day courier service and we could definitely assist her. I asked her where the dress was that she needed collecting.
"We're staying at the Grove Hotel in Watford, I'm supposed to be getting married at Wrotham Park in the morning. I'm not sure of the address of the hotel though" She sounded very flustered.
I told her not to worry as I knew of the hotel and would get the full address details. I asked for her name and a contact number and assured her that a driver would be with her within the hour and that he would call her when he was in the hotel reception.
"Thank-you so much" she said.
Thirty five minutes later our same day courier pulled up outside the hotel and our driver met the worried couple at reception. Emma was still very worried and the driver said she looked very reluctant to let go of her precious wedding dress but she knew the rip had to be fixed right away. She hugged her fiancé as they both worriedly watched on as the driver left with the dress.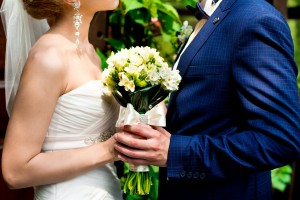 "Don't worry" Our driver reassured them. 'We'll keep you updated and I will personally wait with the dress in Leeds until it's fixed and get it back to you as soon as possible."
'You're a lifesaver,' said Joe her fiancé.
While our driver was on the road, we called the couple periodically just to keep them updated and let them know everything was running smoothly, as we were well aware of how anxious they were.
Our driver gave the couple a quick text when he reached the dressmaker. He took the dress in and gave it to the seamstress who looked shocked at the size of the tear in the dress.
"This could take a while," she said.
Our driver waited outside in the vehicle, popping in from time to time to check on the progress and relay it back to the couple. It was over two hours before it was finished. When he had the dress back in the van, he rang the couple again and they were overjoyed. It was the early hours of the morning by then, so they said they'd try to get some sleep in the three hours or so before it arrived back.
A little over three hours later, our driver was back at the hotel. The couple were so happy and relieved to finally have the dress back safe and sound. Emma checked it all over, and beamed from ear to ear.
'Thank you so much!' she said "you're a superstar"
Joe shook our driver's hand as he left "Thanks again buddy, we cannot tell you how grateful we are"
Later the next week we received a large parcel in the post. It turned out to be two bottles of champagne along with a note from Emma and Joe saying their wedding day had been perfect and they couldn't thank us enough for all our help.
Instant

quote

If you're unsure of the size of vehicle you need or encounter any problems using our price calculator please call, we'll be happy to assist.

For 7.5 Tonne vehicles and bigger, please call 08000 786 373
08000 786 373
Click Here to Follow DKB Blog
© 2015 DKB Despatch Ltd All rights reserved