Call us
08000 786 373 / 07949886180
08000 786 373 / 07949886180

Email us info@dkbdespatch.co.uk
Making sure your goods arrive safely and in the same condition we collected them in is our number one priority.
We take great pleasure in meeting your deadlines consistently, time and time again.
Choose the courier service that will not let you down.
Courier Services Then & Now
Ever since humans have existed, we've needed to communicate with each other. This need has led to the development of language, writing and the institutions that hold our society together. Before written language came about, we relied on drum beats, smoke signals and lights on hilltops to relay important information to those around us.
The first documented evidence of a courier service that delivered written messages was over 4000 years ago. In 2400BC, Ancient Egyptian Pharaohs sent their documents by couriers that transported them on horseback or by horse-drawn wagon.
Horses have been widely-used for mail delivery across different cultures. The ancient empires of the world used relay riders to deliver military and government messages, but it was a while before the general population had the need to send their own mail. The Habsburg Dynasty of the Roman Empire had a particularly spectacular courier network, covering the whole of Western Europe with post stations and horseback routes.
The Pony Express, which operated in the late 19th century, is probably the most famous horseback mail service. Racing through the plains, deserts, forests and mountains of the United States, this service managed to cut the time of delivery from the Atlantic coast to the Pacific side to just 10 days.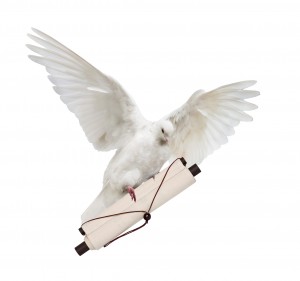 Places that are inaccessible by normal transport, such as the village of Supai at the bottom of the Grand Canyon of Arizona or towns in the mountains of China, are still brought their mail by horseback riders today. Horses are not the only members of the animal kingdom that have been used to send messages. Homing pigeons have also been a popular choice over the years. Able to find their way home from over 1100 miles away, they have been used as messenger birds throughout the ages. Messages were written on a tiny piece of light-weight paper, rolled into a tube and tied to the bird's leg.
They were used in WWI to send secret messages that were very difficult to intercept. One bird, called Cher Ami, was even given a French military award for her heroic service during the war. Despite the availability of more modern technology, pigeons were also used during WWII. For fear of radio communications being hacked, birds were widely used to communicate vital intelligence and military strategy. 32 pigeons received awards for their services during this war.
Unfortunately this method is limited because pigeons only know how to go home, so are only useful for return messages. However they are still used up to this day, delivering messages for news corporations, governments and even to track the progress of yacht races. Traveling up to 90mph, they may even be faster than DKB Despatch same day courier!
Over the years, Alaska and Canada have used dog-sled mail and even reindeer to haul their mail through the harshest weather and terrain. To the other extreme, Australia's mail service was a fleet of camels until 1929. Some societies have relied on the human body's own physical power and endurance for their courier services. The sport of marathon running is said to have come from the story of Pheidippides, an Ancient Greek hero who ran from Marathon to Athens to deliver the good news of their military victory against Persia.
Incas also used runners to carry oral messages via a relay system for important members of their Empire. In more recent times, message runners in WWI risked death as they ran from trench to trench, completely exposed to the enemy, to deliver messages to neighbouring troops. They often lost their lives, but if lucky enough to survive were often decorated for bravery. Adolf Hitler was himself a message runner for Germany in WWI.
You could be forgiven for thinking that message by foot is outdated, but it enjoyed a short revival during the London Olympics. With gridlocked traffic causing chaos and slowing the city down to a crawl, some of the London courier services realised they needed new solutions for their same day courier services. They decided to employ the services of joggers and had couriers jogging around the city and weaving through the crowds and traffic to deliver business messages without delay.
After the Olympics, no doubt a lot of London based courier businesses breathed a sigh of relief. In cities courier companies tend to use bicycle and motorcycle despatch riders wherever possible for easy maneuverability through traffic, though for larger consignments and for longer distances vans, lorries and aeroplanes are also utilised. The fastest-growing sector of the market at present is independent and franchise couriers.
These days with such a large number of same day couriers and overnight services to choose from, any courier service worth it's salt, knows that to survive in the industry it must offer the highest level of organisation and security along with excellent reliability and speed of service.
Instant

quote

If you're unsure of the size of vehicle you need or encounter any problems using our price calculator please call, we'll be happy to assist.

For 7.5 Tonne vehicles and bigger, please call 08000 786 373
08000 786 373
Click Here to Follow DKB Blog
© 2015 DKB Despatch Ltd All rights reserved