Call us
08000 786 373 / 07949886180
08000 786 373 / 07949886180

Email us info@dkbdespatch.co.uk
Making sure your goods arrive safely and in the same condition we collected them in is our number one priority.
We take great pleasure in meeting your deadlines consistently, time and time again.
Choose the courier service that will not let you down.
DKB Despatch BLOG
This page is dedicated to following a selection of deliveries made by our same day courier team along with any subjects of interest that may arise along the way.
At DKB Despatch we pride ourselves on our discretion and confidentiality. We never publish the details of any delivery without first being given express permission from our clients.
Your parcel nightmares: What can you do?
When Delivery Blunders Go Right!
Check out some of the weirdest items ever delivered! 
Diplomatic Couriers and Some Interesting Facts About Them.
How to Identify the Best Same Day Courier Service
Some Benefits of GPS Tracking in the Courier Industry
Read a bit about "Lifestyle Couriers"
Click here to find out about the most commonly offered courier services
5 points to help you find the best courier service for you
Read about couriers past and present
One Wedding, a Ripped Dress and a Courier Company
Earlier this morning one of our same day couriers was assigned the job of collecting some urgent catering supplies from a company in London and delivering them to Lingfield Park Racecourse in Surrey ahead of the day's festivities. The racecourse was opened in 1890 by the then Prince of Wales, who later went on to become King EdwardVII. It started life as a jumps only course but is now used solely for flat and National Hunt races. Our courier got quite a nice picture capturing the empty racecourse on a nice sunny spring morning. Yet another time sensitive delivery completed ahead of schedule by a skilled member of our urgent courier team.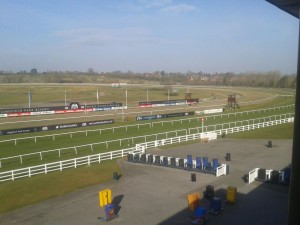 Last week on his travels one of our small van London same day couriers had the fortune of visiting the old Arsenal FC ground, Highbury Stadium to deliver an urgent consignment of goods on behalf of one of our clients. Our customer and the recipient were both very happy that the delivery was made on time. The driver an ardent Arsenal fan managed to get a quick snapshot as a souvenir facing onto what would have been the pitch. What do you think, like what they've done with the old place?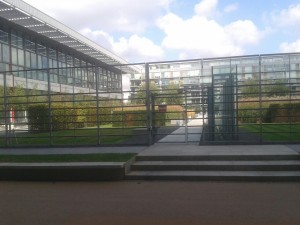 Another very urgent and time critical delivery we achieved last week was when one of our motorcycle London same day couriers was tasked with collecting some documents from a client in Harlow. He had to first take the documents to the Indian Embassy in WC2 to get them stamped and then onto the visa office in SE1 for delivery. We were given this job late in the afternoon and were really against the clock with very little room for error as the visa office closes at 6pm. But once again to the credit of our very skilled courier we managed to pull it off in good time. The driver even found a second to get a photo of a bust displayed in the Indian embassy. He thought it was quite amusing as the esteemed character in the cabinet shared his own first name Bharat.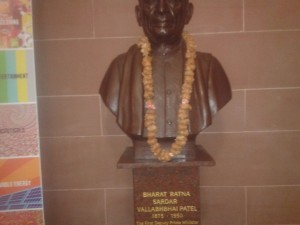 One quite novel delivery we completed recently was when one of our small van same day couriers was called upon to deliver an urgent consignment to party in the park in Hyde Park. The team of technicians responsible for erecting the stage had realised they were missing some vital components required to finish the job, but after a quick call to DKB Despatch the catastrophe was averted. Our skilled driver speedily collected the needed items from a local source and delivered them promptly to the park. Here is a picture out of the window as our driver follows an official to the stage area. We can see the headlines now "DKB Despatch saves party in the park!" Haha!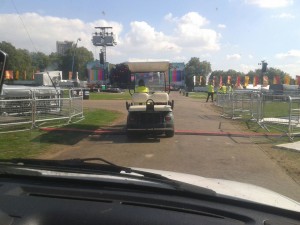 Instant

quote

If you're unsure of the size of vehicle you need or encounter any problems using our price calculator please call, we'll be happy to assist.

For 7.5 Tonne vehicles and bigger, please call 08000 786 373
08000 786 373
Click Here to Follow DKB Blog
© 2015 DKB Despatch Ltd All rights reserved